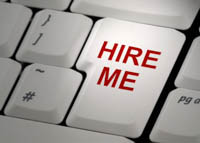 Look at the prediction of for expansion of service for mobile and look at today's BYOD (Bring Your Own Device) policies. Consider that in 2012 the "cloud" and Software as a Service (SaaS) was being embraced, yet today it is happening with companies migrating from on-premise to the cloud.
The road map below shows these movements and more…
| | | | | |
| --- | --- | --- | --- | --- |
| 2012 | to | 2013 | and | Now in 2014 |
| Expansion of Services for Mobile devices and Social Media Sites | | Social NetworkingPersonal DevicesMobile vs Desktop | | Social Media is used for recruiting. BYOD- Bring your own device policies are expected to have great adoption and Mobile is the way of the future |
| Advanced HR Analytics | | Predictive Analytics and Big Data | | HR will finally "see the light" and make analytics a crucial part of their business practices. Big Data will be bigger than ever |
| Expanding the cloud and embracing Software as Service (SaaS) | | Cloud Computing and SaaS | | Continued movement to the Cloud from On-Premise HR Systems is occurring and HR data will be just as secure in the cloud as onsite |
| Best of Breed | | System Integration | | Unified Solution |
It will be interesting to track these predictions, see what is added in 2014 and how the industry continues to evolve by who joins the crowd. It seems that those who choose to grab hold to these changes just might have a slight advantage. What do you think?
Sources:
http://www.hr-softwareblog.com/2012-hr-technology-trends/
http://www.blogging4jobs.com/events/top-10-hr-predictions-for-2014/
http://www.ihrim.org/News/IHRIM_Top_10_Predictions_2013.pdf
http://searchfinancialapplications.techtarget.com/feature/Top-five-HR-technology-predictions-for-2014
Author: Cathy Duncan, HRIS Manager
Copyright: Except as otherwise noted, the text and graphics provided on Johnson, Kendall & Johnson's blog are copyrighted by Johnson, Kendall & Johnson, Inc (JKJ). JKJ does, however, permit visitors to make a single copy of information published on JKJ's blog for their personal, non-commercial use or use within the organization that employs them. JKJ's name, logos, and trademarks may not be otherwise used by the visitors in any manner without the prior written consent of JKJ.
Disclaimer: JKJ does not assume any liability or responsibility for the accuracy, completeness, or usefulness of the information disclosed at or accessed through the Johnson, Kendall & Johnson blog. Reference in Johnson, Kendall & Johnson blog to any products, services, processes, hypertext links, or other information, by trade name, trade mark, manufacturer, supplier, or otherwise does not necessarily constitute or imply JKJ's endorsement, sponsorship, or recommendation.