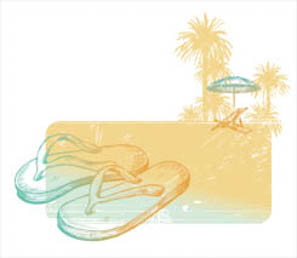 "The intensity of sun exposure for beach goers is certainly elevated. Both water and sand can reflect up to 80 percent of the sun's rays, adding to your overall exposure, " said Perry Robins, MD, President of The Skin Cancer Foundation. " However, beach and pool activities can be enjoyed safely as long as people take some extra precautions."
What is Skin Cancer?
Skin cancer is the uncontrolled growth of abnormal skin cells. It occurs when unrepaired DNA damage to skin cells (most often caused by ultraviolet radiation from sunshine or tanning beds) triggers mutations, or genetic defects, that lead the skin cells to multiply rapidly and form malignant tumors. (Skin Cancer Foundation­- http://www.skincancer.org/skin-cancer-information )
Some General Skin Cancer Facts (Skin Cancer Foundation- http://www.skincancer.org/skin-cancer-information/skin-cancer-facts#general)

Skin cancer is the most common form of cancer in the United States. More than 3.5 million skin cancers in over two million people are diagnosed annually
Each year there are more new cases of skin cancer than the combined incidence of cancers of breast cancer, prostate, lung and colon
About 90 percent of non-melanoma skin cancers are associated with exposure to ultraviolet (UV) radiation from the sun
Half of all adults report at least one sunburn in the past 12 months
Sun Safety Tips for Beachgoers
Make sure to apply sunscreen to your skin (best sunscreen option is one that is water resistant and has a minimum of 30 SPF)
According to the Skin Cancer Foundation, to ensure that you get the full SPF of sunscreen, apply sunscreen 30 minutes before sun exposure to allow for all ingredients to be absorbed into your skin
Make sure that you reapply sunscreen every 2 hours or immediately after swimming or sweating a great deal
Make sure that you protect your head, face and eyes (sunglasses should filter out 99 to 100 percent of UV radiation)
Make sure to seek the shade and plan your visit to the beach accordingly (the sun is most intense between 10AM and 4PM)
Your trip to the beach this summer should be fun, but make sure to include sunscreen in your beach bag and remember to always reapply sunscreen while lying in the sun.
Author: Allison Wright, Corporate Communications Director
Copyright: Except as otherwise noted, the text and graphics provided on Johnson, Kendall & Johnson's blog are copyrighted by Johnson, Kendall & Johnson, Inc (JKJ). JKJ does, however, permit visitors to make a single copy of information published on JKJ's blog for their personal, non-commercial use or use within the organization that employs them. JKJ's name, logos, and trademarks may not be otherwise used by the visitors in any manner without the prior written consent of JKJ.
Disclaimer: JKJ does not assume any liability or responsibility for the accuracy, completeness, or usefulness of the information disclosed at or accessed through the Johnson, Kendall & Johnson blog. Reference in Johnson, Kendall & Johnson blog to any products, services, processes, hypertext links, or other information, by trade name, trade mark, manufacturer, supplier, or otherwise does not necessarily constitute or imply JKJ's endorsement, sponsorship, or recommendation.