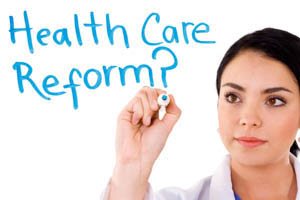 The Affordable Care Act (ACA), signed into law in March 2010, rocked the health benefits world. Every industry has its own historic timeline that illuminates significant discoveries or changes in product or product delivery. Health Benefits Insurance is no different. From the inception of group health benefits plans in the 1940's, the advent of Medicare and Medicaid in the mid 1960's and HMO's in the 1970's, very little has changed in health benefits delivery.
The Time of Change Has Arrived
As employers and employees struggle to keep up with the ACA's new laws, mandates and additional costs related to these, the insurance industry is keeping in step with some of the most exciting health benefit delivery solutions health benefits have ever seen; a makeover of sorts.
Two New Options for Employers and Employees
Private Exchanges are getting a lot of attention in the marketplace as a new and upcoming method for benefits delivery. Private Exchanges are also referred to as a Defined Contribution Model or Benefits Marketplace. In simple terms in a private exchange model, the employer provides each employee with a defined contribution to be used for health benefit expenses and more choices for benefit selection. The employee then explores all the benefits available to them in an "online shopping experience" private exchange portal and selects their benefits specific to their personal needs. Private exchanges offer employers ease of administration, more transparency of health benefits costs and more predictable budgeting with a defined contribution. In contrast to traditional health benefits delivery, private exchanges offer a consumer driven model. For the employee the most significant benefits being greater engagement, choice and autonomy in the benefit selection process.
Employee Benefit Group Captives are another interesting option for employer groups that are looking to have more control over the rising cost of health care benefits for their employees. In a Captive, the employer group contributes a defined contribution to a fund shared by other employer groups. The employer pays for the smaller medical claims for their employees but the responsibility for larger medical claims is shared by the other member groups of the captive coupled with a stop gap insurance policy. In a favorable claim year, the overage in the shared fund is disbursed to the employer groups. So in essence the employer groups share the risk with large claims but only pay for the medical claims if and when they occur.
Opportunity Knocks with Finding the Right Solutions
Employer group health benefit options are as varied as they have ever been. While the changes related to health care reform cause angst among all parties involved, the variance in options create a great opportunity to rethink benefits strategy and customize a benefits program specific to individual business needs. The JKJ Employee Benefits Team plays a pivotal role in helping businesses navigate the changing health benefits environment. Through extensive analysis, collaboration and consultation, JKJ benefits professionals provide strategic benefit solutions that are as unique as the clients we serve.
Author: Kristin Walton, Manager of Strategic Initiatives
Copyright: Except as otherwise noted, the text and graphics provided on Johnson, Kendall & Johnson's blog are copyrighted by Johnson, Kendall & Johnson, Inc (JKJ). JKJ does, however, permit visitors to make a single copy of information published on JKJ's blog for their personal, non-commercial use or use within the organization that employs them. JKJ's name, logos, and trademarks may not be otherwise used by the visitors in any manner without the prior written consent of JKJ.
Disclaimer: JKJ does not assume any liability or responsibility for the accuracy, completeness, or usefulness of the information disclosed at or accessed through the Johnson, Kendall & Johnson blog. Reference in Johnson, Kendall & Johnson blog to any products, services, processes, hypertext links, or other information, by trade name, trade mark, manufacturer, supplier, or otherwise does not necessarily constitute or imply JKJ's endorsement, sponsorship, or recommendation.