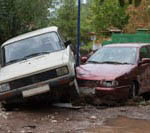 When reporting an auto claim for the first time, one might not know what questions to ask and what information to gather. It's always a little nerve wracking after having that first accident, whether it is a little fender bender or a much bigger type of accident.
Below are some guidelines for information that should be gathered from and given to the other driver:
First and foremost, take a deep breath and make sure you are ok before getting out of your car
Based on the severity of the accident, make sure that either you, the other driver or a bystander calls 911. This could be important for insurance purposes because the police will come out and take statements from both drivers. These statements will help the insurance adjuster determine liability and who is responsible for the accident.
You should find your license and your registration card; on these two items you will find the information that you need to give to the other driver. You can write this information down and give to the other driver. Have them do the same for you.
o Your Name
o Address
o Phone #
o Insurance Company & Policy #
o Vehicle Information – Year/Make/Model/Vin #
It's also a good idea to take pictures of the damage to both vehicles
If there are any witnesses, get their name & numbers; this will be useful for the adjuster to evaluate the liability on the claim
Notify your employer of the accident if you were in a company insured vehicle. This is especially important if you have sustained injuries and need medical attention, which could lead to a Workers Compensation Claim.
Once the police have come and gone and information is gathered and given to the other driver, the claim can be called in. It's also good to know that any information gathered and bills/invoices incurred from the accident should be saved and submitted to the insurance carrier for payment. These could include towing, ambulance (if necessary), any medical bills if an injury was incurred, repair estimate & rental bill (if necessary).
And remember insurance is there to help make whole what was broken. Once the claim has been reported, the insurance adjuster will work with you to get the claim resolved in the timeliest and most cost effective way they can. On tips for how to deal with an insurance claims adjuster, please reference the following article http://www.ehow.com/how_7591163_deal-insurance-claims-adjuster.html.
Reference Article: "How to Deal with an Insurance Claims Adjuster" Author: Stephen Hicks (http://www.ehow.com/how_7591163_deal-insurance-claims-adjuster.html)
Author: Katie Ullman, Claims Associate
Copyright: Except as otherwise noted, the text and graphics provided on Johnson, Kendall & Johnson's blog are copyrighted by Johnson, Kendall & Johnson, Inc (JKJ). JKJ does, however, permit visitors to make a single copy of information published on JKJ's blog for their personal, non-commercial use or use within the organization that employs them. JKJ's name, logos, and trademarks may not be otherwise used by the visitors in any manner without the prior written consent of JKJ.
Disclaimer: JKJ does not assume any liability or responsibility for the accuracy, completeness, or usefulness of the information disclosed at or accessed through the Johnson, Kendall & Johnson blog. Reference in Johnson, Kendall & Johnson blog to any products, services, processes, hypertext links, or other information, by trade name, trade mark, manufacturer, supplier, or otherwise does not necessarily constitute or imply JKJ's endorsement, sponsorship, or recommendation.