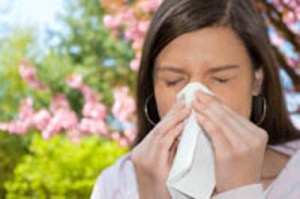 It is the beginning of spring and with that comes seasonal allergies. Itchy eyes, runny nose and sneezing are just a few of the symptoms that many people face this time of year. There are some natural remedies that can help ease those symptoms without the uncomfortable side effects of traditional over the counter remedies.
The first is Butterbur (Petasites hybridus). When taken several times a day, it is shown to relieve the symptoms of hay fever and grass allergies.
Another alternative is the herb goldenseal which when mixed with a saline nasal spray can help reduce and cleanse the mucus that is found in the nasal passages.
Finally, there is grape seed extract that can be taken as capsule, but is also easily found in abundance in red wine. When taken with vitamin C, it is very helpful in reducing allergy symptoms.
Hope you get outside and enjoy Spring comfortably!
Author: Molly Rosenquist, Wellness Coordinator
Reference: Colette Bouchez, Web MD
Copyright: Except as otherwise noted, the text and graphics provided on Johnson, Kendall & Johnson's blog are copyrighted by Johnson, Kendall & Johnson, Inc (JKJ). JKJ does, however, permit visitors to make a single copy of information published on JKJ's blog for their personal, non-commercial use or use within the organization that employs them. JKJ's name, logos, and trademarks may not be otherwise used by the visitors in any manner without the prior written consent of JKJ.
Disclaimer: JKJ does not assume any liability or responsibility for the accuracy, completeness, or usefulness of the information disclosed at or accessed through the Johnson, Kendall & Johnson blog. Reference in Johnson, Kendall & Johnson blog to any products, services, processes, hypertext links, or other information, by trade name, trade mark, manufacturer, supplier, or otherwise does not necessarily constitute or imply JKJ's endorsement, sponsorship, or recommendation.