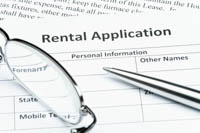 How will you replace your possessions if a fire, burglary or storm strikes your apartment? It is hard to believe that Super storm Sandy was only a year ago. The devastation caused home and renters damages in excess of $7.1 Billion Dollars. Countless people impacted are still living outside their residences and it amplifies what impact a storm can have on lives. Many renters found their situations similar to a homeowner in replacing their possessions and needing temporary housing.
Where would you live while your apartment is being repaired? How would you replace your clothing and furnishings in the aftermath? Where will the money come from?
A renter's policy protects your contents from the unforeseen effects: a fire, theft, burglary, windstorm and other covered perils. It can cover expenses for temporary housing if you can't live in your apartment while it is being repaired or rebuilt. Flood is not covered by renters insurance and flood coverage is essential when residing in coastal and flood prone areas. Renters insurance can also protect your current and future assets if you are responsible when a friend or other person is injured by your actions inside or outside of your apartment as defined by the policy.
The best place to start is to determine what your loss could be by taking an inventory of your personal possessions. Many companies will offer replacement cost providing new for old replacement of your contents after a fire or other covered claim. Knowing what you have and need to protect is half the battle.
Many renters feel that asset protection is not a key issue. It is. Consider your current assets and your income today and in the future which is at risk and could be attached if someone is injured by you or a resident relative. Your renter's policy protects you when held legally liable for covered liability claims.
While insurance is not always the answer to protect your property. Renters insurance is affordable and the best way to protect the things that you cherish and your assets against an unforeseen claim.
Author: George A. Pester, CIC, Vice President Private Client Group
Copyright: Except as otherwise noted, the text and graphics provided on Johnson, Kendall & Johnson's blog are copyrighted by Johnson, Kendall & Johnson, Inc (JKJ). JKJ does, however, permit visitors to make a single copy of information published on JKJ's blog for their personal, non-commercial use or use within the organization that employs them. JKJ's name, logos, and trademarks may not be otherwise used by the visitors in any manner without the prior written consent of JKJ
Disclaimer: JKJ does not assume any liability or responsibility for the accuracy, completeness, or usefulness of the information disclosed at or accessed through the Johnson, Kendall & Johnson blog. Reference in Johnson, Kendall & Johnson blog to any products, services, processes, hypertext links, or other information, by trade name, trade mark, manufacturer, supplier, or otherwise does not necessarily constitute or imply JKJ's endorsement, sponsorship, or recommendation.