On October 1, Jimmy Carter, the oldest living President, turned 95 years old. He is also celebrating nearly three years since being diagnosed with metastatic cancer, thanks to a drug that did not exist, just a decade ago.
In addition to this fast-track drug development being great news for President Carter, this is also remarkable because bringing a new drug to the market historically takes many years and a significant investment, ranging from US $161 million to $2.5 billion, not to mention the risk that the drug may never be approved. So, to incentivize drug manufacturers to make this substantial and often uncertain commitment both in energy and dollars, new drugs are patent-protected for a period of time, preventing other manufacturers from copying the drug and competing in the market.
For President Carter, the drug that is extending his life represents an incredible innovation in healthcare, but all patent-protected drugs aren't as innovative. Some are merely combinations of two or more existing medications, which when sold individually, cost less. This illuminates and exposes one of the most glaring problems in the healthcare system today – the dramatic rise in costs for prescription drugs. Prices have been steadily increasing for decades, but in the past few years, they have soared faster than any other form of healthcare spending, including hospitalization and nursing home care.
Let's go back to those patent-protected drugs for a minute. 78% of which with new patents have been revealed to not be new drugs at all, but existing drugs, in a new format, with a higher price tag. And of the 100 best-selling drugs, more than 70% saw their patent-protections extended at least once. With this information, it is hard to justify the claim that innovation is driving drug development.
Just as skyrocketing drug prices are a cause for concern on the R&D side, this also calls the drug distribution system into question and how formularies are established. Pharmacy benefit managers (PBMs) are responsible for building formularies, but approach this with an opacity to rebates and persuasion payments that contribute to upward pressure on prices. Another concern regarding formularies is that the collaborative relationships forged between larger drug manufacturers and PBMs can prevent lower-priced competitors from gaining traction in the market.
JKJ Benefits has been tracking this evolution of prescription drug pricing and is focused on solution-driven strategies within the healthcare system to aid our clients in containing costs, while providing their employees and dependents with quality healthcare. The drug delivery system needs a new foundation and the first step in building that foundation is understanding the complete landscape and where we can help.
Brenda Motheral, RPh, MBA, PhD and CEO of Epiphany Rx recently led an interactive seminar for our current and prospective clients focused on next generation, transparent, management solutions for the pharmacy and medical industries. Brenda examined the market challenges facing stakeholders in the space, including the Food & Drug Administration (FDA), pharmaceutical companies, pharmacy benefit managers and physicians. She also shared best practices and practical, sustainable solutions for quality and cost containment in pharmacy management.
Everyone has a limit and every budget has an end point. We know our clients and their valued employees, have reached that end point. To learn more about the strategies discussed at our event, or our approach and recommendations for pharmacy solutions, please contact your JKJ Account Executive.
Written by: Julie Bartl | President | Johnson Kendall & Johnson Benefits, Inc.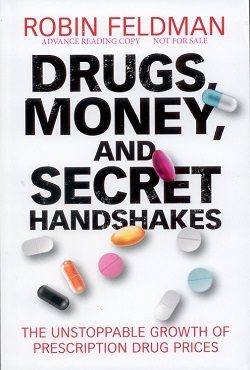 Excerpts from the book above were used in this post. For a complimentary copy, complete the form below.