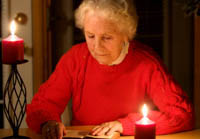 Another day for the records!
PECO advised that over 500,000 families are experiencing power outages…the record is still held by Sandy victims where over 790,000 families lost power, little consolation for those experiencing the current even but it certainly demonstrates the magnitude of this storm.
Many of our JKJ family as well as friends and clients are being devastated by the ice storm. Below is a link for tips that can be helpful when the power goes out unexpectedly. The power surge can be a huge issue. Bad enough to go through the outage, but maybe even worse to lose all of you appliances and computers when it comes back on. Unplug those appliance and items if you are without power. To keep in touch, keep your cell phones charged. Use your auto chargers to keep your phones active, but be careful not to wear out your car battery.
You probably already have done this, but it sometimes it is important to repeat. If the power is out in your entire neighborhood, call your local utility company to report the outage. The phone number should be on your electricity bill, or check the white pages in your phone book.
Some other things to remember to do include:
UNLESS there is an emergency, do not call 9-1-1. That number should ONLY be used if there is an emergency, or if someone is injured or in danger.
If there are power lines down in your neighborhood, call 9-1-1 and call your utility company. DO NOT GO NEAR DOWNED POWER LINES.
Listen to your battery-powered radio or TV, especially for news at the top of each hour, to find out when the power might be restored.
Dress to stay warm – wear layers, including a sweater, sweatshirt or even a jacket. You lose heat through your hands and the top of your head. Wear gloves and a knit hat, not just a baseball cap.
Avoid opening your refrigerator and freezer as much as possible. Food inside should stay cold for hours if the door is left closed.
If you're cold, take a warm shower – to increase your body temperature. Your hot water tank, even if electric, will stay warm for a few hours.
Unplug some of your major appliances. When the power comes back on, all of those appliances can create a drain or power surge. This can harm sensitive equipment. To avoid a power surge when the electricity returns, turn off computers, TVs, stereos and other unnecessary electronic equipment at the power source. Leave a light on so you'll know when the power is restored.
If you have a regular wood stove or fireplace, you can use it for heat. However, DO NOT USE kerosene heaters, BBQs, or any outdoor type heater inside. Such devices create poisonous gases such as carbon monoxide. Carbon monoxide is an odorless and colorless gas given off by combustion and could kill.
If you have to go out, drive carefully. Remember that traffic signals may be out during a power outage. Consider each intersection to be a four-way stop and drive defensively.
The Center for disease control has some great tips- log onto http://www.bt.cdc.gov/disasters/poweroutage/needtoknow.asp for additional advice.
Author: George A. Pester, CIC, Vice President, Personal Insurance
Copyright: Except as otherwise noted, the text and graphics provided on Johnson, Kendall & Johnson's blog are copyrighted by Johnson, Kendall & Johnson, Inc (JKJ). JKJ does, however, permit visitors to make a single copy of information published on JKJ's blog for their personal, non-commercial use or use within the organization that employs them. JKJ's name, logos, and trademarks may not be otherwise used by the visitors in any manner without the prior written consent of JKJ.
Disclaimer: JKJ does not assume any liability or responsibility for the accuracy, completeness, or usefulness of the information disclosed at or accessed through the Johnson, Kendall & Johnson blog. Reference in Johnson, Kendall & Johnson blog to any products, services, processes, hypertext links, or other information, by trade name, trade mark, manufacturer, supplier, or otherwise does not necessarily constitute or imply JKJ's endorsement, sponsorship, or recommendation.