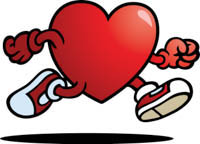 Heart disease is the No. 1 killer of women in the United States, claiming more lives than all forms of cancer combined. For more than 10 years, the American Heart Association has sponsored National Wear Red Day® to raise awareness in the fight against heart disease in women.
Celebrate National Wear Red Day® with Go Red for Women on Friday, February 7, 2014 to help fight women's No. 1 killer—heart disease. Join the movement nationwide and learn how you can honor women on this important day by going to www.goredforwomen.org.
Below are some ways to help you get started on creating an event in your office by the Go Red For Women Editors:
Announce the event date and location as far ahead as possible
Sign up to get downloadable resources like flyers, posters, mail templates, fundraising kits and other items that you'll need
Send invitations and follow up with reminders
Build excitement around the event by hanging posters and handing out flyers in your community
If you're planning a fundraiser, create an online fundraising page by following these simple instructions
Plan ahead for a speaker like a cardiologist or heart disease survivor. If you need one, contact your local American Heart Association office for recommendations
If you serve food, think heart-healthy and red
Hand out heart health guides
Consider activities like heart-healthy cooking demonstrations or free blood pressure checks
Add to fundraising totals with a bake sale, raffle or silent auction
Give attendees a participant certificate and provide tax receipt forms for cash donations
Ask those who cannot attend to donate online.
Together we can make a difference in the fight against heart disease!
Author: Molly Rosenquist, Wellness Coordinator
Copyright: Except as otherwise noted, the text and graphics provided on Johnson, Kendall & Johnson's blog are copyrighted by Johnson, Kendall & Johnson, Inc (JKJ). JKJ does, however, permit visitors to make a single copy of information published on JKJ's blog for their personal, non-commercial use or use within the organization that employs them. JKJ's name, logos, and trademarks may not be otherwise used by the visitors in any manner without the prior written consent of JKJ.
Disclaimer: JKJ does not assume any liability or responsibility for the accuracy, completeness, or usefulness of the information disclosed at or accessed through the Johnson, Kendall & Johnson blog. Reference in Johnson, Kendall & Johnson blog to any products, services, processes, hypertext links, or other information, by trade name, trade mark, manufacturer, supplier, or otherwise does not necessarily constitute or imply JKJ's endorsement, sponsorship, or recommendation.