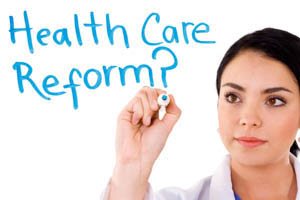 The existence of the Health Insurance Marketplace has been in full swing for almost two months with coverage being effective as early as January 1, 2014. The open enrollment period for the Marketplace ends on March 31, 2014 and those individuals who do not enroll in the Marketplace will have to wait until the next proposed open enrollment period of November 15, 2014 – January 15, 2015 unless they experience a special enrollment period due to a qualifying life event (i.e. loss of coverage, marriage, have a child).
Many individuals have heard about the federal subsidies that are being offered to those who enroll in Marketplace coverage. These federal subsidies will come in the form of tax credits that can be directly applied to the cost of your monthly premium. When deciding whether you will continue on your employer's plan (if available) or obtain coverage through the Marketplace, it's important to keep in mind these few caveats to being eligible for the federal subsidy. If your employer sponsored plan:
Meets the minimum value standard – This means that overall, the actuarial value of the plan covers 60% of medical expenses. This aligns with the lowest metallic level, Bronze Plans, offered in the Marketplace.
Meets the affordability test – The plan is deemed affordable when the employee only rate for the lowest plan being offered does not exceed 9.5% of an individual's household income.
If your employer's plan(s) meets the above criteria and you are benefit eligible, then you will not be eligible for a federal subsidy. If you do not have access to employer sponsored coverage or your employer's plan does not meet the above criteria, then you may be eligible for a federal subsidy if your household income falls between 100%-400% of the federal poverty level. This is between $11,490 and $45,960 for an individual or $23,550 and $94,200 for a family of four. When applying for coverage on www.healthcare.gov, individuals will be notified if they are eligible for a subsidy based on the information they provide.
Keep in mind that just because you have employer sponsored coverage available to you, doesn't mean that you can't obtain coverage through the Marketplace. A few things to consider are that most employers essentially "subsidize" a portion of the monthly premium, thus leaving your employer's sponsored plan will result in you paying 100% for your monthly premium. In addition, you will lose the tax advantage of having per pay deductions taken on a pre-tax basis. Premium paid in the Marketplace is done post-tax. If you're currently going through your employer's open enrollment period, keep in mind the above factors when deciding to enroll in employer sponsored coverage or going to the Marketplace.
Author: Karissa Musser, Benefits Account Manager
Copyright: Except as otherwise noted, the text and graphics provided on Johnson, Kendall & Johnson's blog are copyrighted by Johnson, Kendall & Johnson, Inc (JKJ). JKJ does, however, permit visitors to make a single copy of information published on JKJ's blog for their personal, non-commercial use or use within the organization that employs them. JKJ's name, logos, and trademarks may not be otherwise used by the visitors in any manner without the prior written consent of JKJ.
Disclaimer: JKJ does not assume any liability or responsibility for the accuracy, completeness, or usefulness of the information disclosed at or accessed through the Johnson, Kendall & Johnson blog. Reference in Johnson, Kendall & Johnson blog to any products, services, processes, hypertext links, or other information, by trade name, trade mark, manufacturer, supplier, or otherwise does not necessarily constitute or imply JKJ's endorsement, sponsorship, or recommendation.