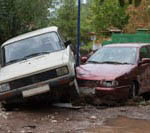 Even the best drivers get into auto accidents. An accident is stressful and drivers sometimes forget needed information to make the best outcome from a bad situation. When you find yourself involved in an auto accident these steps can help you stay in charge of your claim and get the best results from your insurance company.
Be Prepared
It is important to always have your updated Insurance Card, Registration and Medical Insurance information. Keep a pen & paper in your vehicle to exchange information with other drivers.
At the Scene of the Accident
Move out of the way of traffic if practical and turn on your hazard warning lights
Call the police even in a minor accident. If someone is injured, request medical assistance
Don't discuss the accident with anyone other than the police or your insurance representative
If your car needs to be towed from the accident site, call your insurance company (The Claims Phone number is often listed on your Insurance ID Card)
Exchange necessary information with the other driver(s)
Write down the other driver's name, address, phone number, license plate number and insurance policy #, company and agents name and contact information when available
Write down the contact information of all witnesses including addresses and phone numbers
If you have cell phone archive information on your phone camera and take notes on your voice memo function

Photo the Accident scene, vehicle damage and positions of the cars.
Photo license plate #s, registrations and drivers license of all available drivers involved
Record memo notes at the accident scene include road conditions and all information gathered if your phone has this function
Once you are home
Report the accident to your insurance company or agent as soon as possible. Give a clear description of the accident and provide all details that you gathered. You will find that having the proper details will speed up your claims processing and provide your company with information resulting in the best outcome possible.
Author: Maren Winkis, Personal Lines Manager
Copyright: Except as otherwise noted, the text and graphics provided on Johnson, Kendall & Johnson's blog are copyrighted by Johnson, Kendall & Johnson, Inc (JKJ). JKJ does, however, permit visitors to make a single copy of information published on JKJ's blog for their personal, non-commercial use or use within the organization that employs them. JKJ's name, logos, and trademarks may not be otherwise used by the visitors in any manner without the prior written consent of JKJ
Disclaimer: JKJ does not assume any liability or responsibility for the accuracy, completeness, or usefulness of the information disclosed at or accessed through the Johnson, Kendall & Johnson blog. Reference in Johnson, Kendall & Johnson blog to any products, services, processes, hypertext links, or other information, by trade name, trade mark, manufacturer, supplier, or otherwise does not necessarily constitute or imply JKJ's endorsement, sponsorship, or recommendation.