Ashara Shapiro, artist & owner of ARTWRKD, and Bruce White, CEO of Johnson, Kendall & Johnson, a longtime advocate for the artistic community, are pleased to announce their artistic collaboration in JKJ's office design.
When ARTWRKD opened in September 2022 on South State Street in Newtown's Historic Borough, part of the mission was to be proactive in bringing more art, and creative experiences to Bucks County and specifically Newtown. When Ashara and Bruce met and Ashara shared her vision of ways in which ARTWRKD Art Collective would serve their community, Bruce immediately asked how he could help. JKJ quickly became ARTWRKD's first Corporate Founding Member.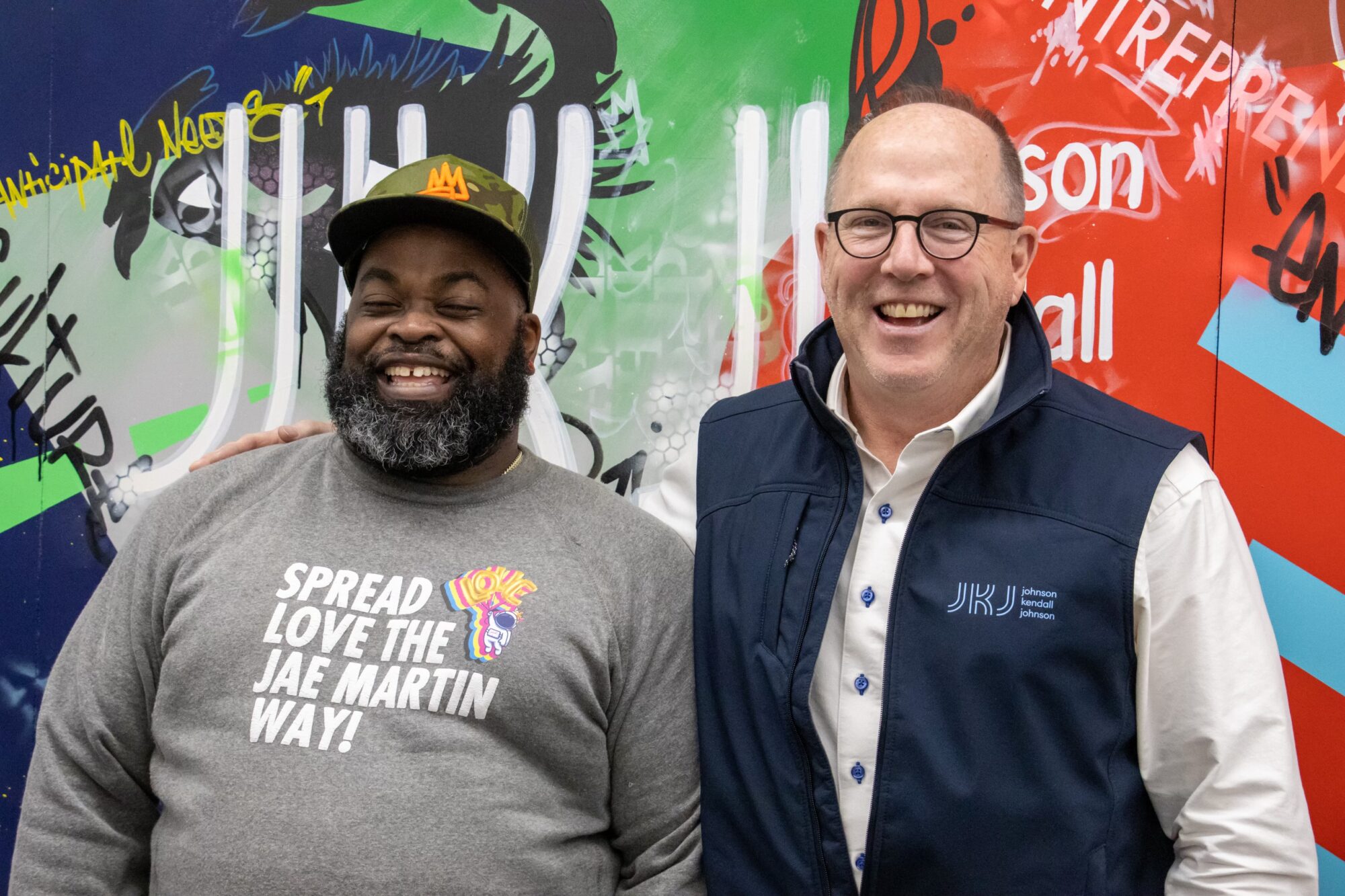 Among the perks of membership, was the opportunity for a custom curation for the commercial office space. Ashara brought her Creative Design background and paired it with the diverse and dynamic artists who are members of the collective and a powerful collection of artwork emerged. The curation was comprised of three artists, all of different styles and mediums, and molded into a cohesive and visually impactful show. Bruce and Ashara even discussed an original custom graffiti wall for the office by Philadelphia artist Jae Martin. Jae took the inspirational words and ideology behind the hugely successful JKJ corporation and incorporated it into a bright and fun show stopping piece. In total, the curation consisted of 28 pieces by artists Danielle Sapienza, Michael Palladino and Jae Martin.
"We are so excited and energized by the artists and the artwork we chose with Ashara's guidance. The creative passion of the artists immediately grabs your attention and allows our JKJ team and guests to experience the artwork in a personal and meaningful way. We hope our commitment encourages others to support local artists and the arts," said CEO Bruce White.
Ashara has a vision of expanding the curation arm of ArtWRKD She envisions making incredible connections with artists and patrons and breaking down the walls of what it means to be a collector, whether it be commercial or residential spaces and help curate artwork. "I have always had a love of design, from creating custom work to designing interior spaces. I have a good feel for matching the artist and the patron. I do this in my personal artistic creation but also have always done this for others." said Ashara.
ARTWRKD is offering yearly Founding Memberships to corporations, small businesses, and private members with offerings for couple or individual founding members. The different levels and perks are discussed on the website. Corporate Founding Membership starts at $2500 a year. Corporate Membership includes; an invitation to the Yearly Art Patron Appreciation Gala for the granted Artist Spotlight Membership and youth artistic development work done throughout the year, art Curation for Business Space either through rotating gallery or art procurement, recognition on the ARTWRKD Collective online platform. Also, ARTWRKD does many events throughout the year. Founding Members receive four VIP tickets for all events during the year, including the Wearable Art Show, Young and New Artist Show, Spoken Word Show and Master's Show. An opportunity for use of the gallery as an intimate event space for client events and newsletter recognition to all clients and members.
"I believe strongly in the power of art, both in the artistic process and its emotive quality to those who see it. Art speaks to all of us and has throughout history. Art in its many forms has given us a scope into the human condition. My intention is that this space, ARTWRKD becomes a place where the community can experience, be immersed in and connect to artists and each other in a meaningful way."
ABOUT ARTWRKD
ARTWRKD is a full-service art consortium with a mission for discovering, fostering and sharing all mediums of original work by today's best-emerging artists. ArtWRKD also offers workshops, events and revolving exhibitions. Visit www.artwrkd.com for additional information.
Address: 126 & 128  South State Street in Newtown, PA
Contact: Ashara Shapiro | P: 646-924-7394 | E: Artcurator@artwrkd.com