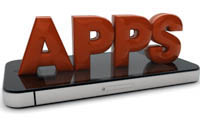 With New Year's Resolutions fresh, your health and wellness goals have the potential to become a reality, with smart phones holding the key to success. The growth of wellness and health-oriented apps allow iPhone and Android users to track anything from calories consumed, the cycles of sleep, or miles completed on a run.
Currently, some of the most popular apps include MyFitnessPal, Sleep Cycle, and Map My Run.
The MyFitnessPal calorie counter allows you to enter the meals consumed in order to count calories, any potential exercise done to manage calories burned and how to supplement your diet accordingly, and tells how certain eating habits will contribute to reaching your target weight. Whether you are looking to lose weight or affirm healthy eating, this app will help avoid guessing the nutritional value of food choices.
The Sleep Cycle app helps with recording and managing a person's sleep cycle in order to gradual wake the person based on the depth of their sleep cycle. By placing their phone near the pillow, the app tracks movements and essentially learns the persons sleep cycle.
Third is Map My Run, which through a GPS tracks running routes, mileage, and pace. In tracking routes, it is able to create a variety of previously run trails for the user to choose from.
These are only three of the many apps available at your fingertips……
Author: Julie Bartl, Vice President of JKJ Benefits, Inc.
Copyright: Except as otherwise noted, the text and graphics provided on Johnson, Kendall & Johnson's blog are copyrighted by Johnson, Kendall & Johnson, Inc (JKJ). JKJ does, however, permit visitors to make a single copy of information published on JKJ's blog for their personal, non-commercial use or use within the organization that employs them. JKJ's name, logos, and trademarks may not be otherwise used by the visitors in any manner without the prior written consent of JKJ.
Disclaimer: JKJ does not assume any liability or responsibility for the accuracy, completeness, or usefulness of the information disclosed at or accessed through the Johnson, Kendall & Johnson blog. Reference in Johnson, Kendall & Johnson blog to any products, services, processes, hypertext links, or other information, by trade name, trade mark, manufacturer, supplier, or otherwise does not necessarily constitute or imply JKJ's endorsement, sponsorship, or recommendation.